Air Quality Flag Program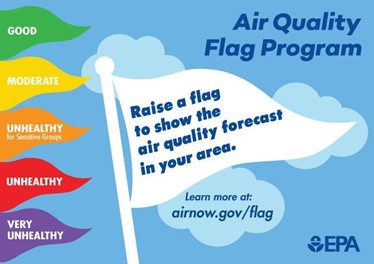 The Air Quality Flag Program is an initiative in which people in the neighborhood raise a flag that correlates to how clean or polluted the air is. The color of the flag that is raised matches the EPA's Air Quality Index (AQI) for that particular day (1).  This will notify people in the community of the AQI for the day and understand how the air may affect them.
This program is very important to make people feel safe and allow them comfort when they go outside to know the air is clean.
The different colors of the flag are important  to understand:
Green → Good: great day to be outside
Yellow → Moderate: good day to be outside but should take it easy if your very sensitive to air pollution
Orange → Unhealthy for sensitive groups: anyone with certain health conditions and those who are very active outside should take it easier
Red → Unhealthy: everyone should take it easier
Purple → Very unhealthy: limit time outdoors especially sensitive groups
The public can use this knowledge to be able to plan activities for the day accordingly based on the color of the flag for that particular day. On unhealthy days, this information can be used to adjust physical activities to help reduce exposure to air pollution but still keep everyone active and living a normal life (1).  This information is especially valuable in school where students can learn from a young age the importance of air quality not only for their health but also for their future
Resources
1 "Air Quality Flag Program." Air Quality Flag Program Main Page | AirNow.gov, https://www.airnow.gov/air-quality-flag-program/.
2 "Air Quality Flag Program – AirNow." Air Now, https://www.airnow.gov/sites/default/files/2018-05/flag%20program%20poster-business.pdf.
3 "Flag Program Infographic." Publications Page | AirNow.gov, AirNow.gov, U.S. EPA, https://www.airnow.gov/publications/air-quality-flag-program-outreach-materials/flag-program-infographic/